Directors
Howard Pien
Chairman
Howard Pien has worked in the pharmaceutical and biotechnology industries for over 30 years. He is currently a board director of three development stage biopharma companies: Immunogen, Juno (as non-executive chairman), and Sage; and a director of two commercial stage companies: Indivior Plc, specializing in addiction treatment (as non-executive chairman), and Vanda, specializing in CNS (four years as chairman).
His past board service includes Arresto, Ikaria, Talon, and Viropharma (as lead independent director), all of which were acquired in strategic transactions. Howard has also served as an advisor to the Life Sciences Practice of Warburg Pincus, a private equity firm. Howard's past non-profit board appointments include BIO and PhRMA, as well as Oakland Children's Hospital and Fox Chase Hospital.
From 2007 to 2009, Howard was the Chairman and CEO of Medarex, Inc., a public biotechnology company, until it was acquired by Bristol-Myers Squibb. From 2003 to 2006, he was the chairman and CEO of Chiron, a public biotechnology company, which was acquired by Novartis. Between 1991 and 2003, he held various executive positions at GlaxoSmithKline Plc (GSK) and its predecessor Smithkline Beecham, as President of US, International, and Pharmaceuticals. Prior to GSK, Howard worked for Abbott Labs for six years and Merck & Co., Inc. for five years.
Howard received a BS in engineering from MIT and an MBA from Carnegie Mellon University.
Isaac Blech
Vice Chairman
Isaac Blech is the co-founder and Vice Chairman of Sapience Therapeutics. Mr. Blech's current roles include Vice Chairman of Edge Therapeutics, Founder and Vice Chairman of Cerecor, Inc. and Director of ContraFect Corporation. Since 2011, he has served as Vice Chairman of Root9b Technologies, a public company working in the areas of financial regulations, clean energy and cyber security, Vice Chairman of SpendSmart Networks, a mobile marketing and payments company, and Director of Medgenics, Inc., a public company on the American Stock Exchange which has a new proprietary technology for providing protein therapies to patients with a wide range of illnesses. Mr. Blech is also Vice Chairman of Centrexion Corporation, a private company developing new modalities of pain control, and Vice Chairman of RestorGenex Corporation, a public company developing products in the areas of dermatology and restorative medicine.
Over the past 33 years, Mr. Blech has founded some of the leading biotechnology companies including Celgene Corporation, ICOS Corporation, Pathogenesis Corporation, Nova Pharmaceutical Corporation and Genetic Systems Corporation. These companies are responsible for major advances in the treatment of cancer, infectious diseases, and cystic fibrosis.
Mr. Blech holds a B.A. from Baruch College.
Barry Kappel, Ph.D., MBA
President, CEO and Director
Barry Kappel is the founder, President, Chief Executive Officer and Director of Sapience Therapeutics. As a biotechnology entrepreneur, executive and native New Yorker, Dr. Kappel is driven to help develop and foster the biotechnology community in New York, and Sapience is the latest example of this effort.
Prior to founding Sapience, Dr. Kappel was a senior executive of ContraFect Corporation, a company which he played an integral part in founding in 2009. As the Senior Vice President of Business Development, he was involved in all aspects of the company, including financing activities, licensing of the company's key technologies, establishing scientific collaborations with academic and corporate partners, presenting to regulatory authorities and developing a corporate strategy. Prior to ContraFect, Dr. Kappel was a Senior Consultant at Easton Associates, LLC, a boutique life science consulting firm located in Manhattan. Easton Associates has since been acquired by Navigant Consulting.
Dr. Kappel holds a B.A. in Chemistry from Emory University, a Ph.D. in Immunology and Pharmacology from the Weill Cornell Graduate School of Medical Sciences and Memorial Sloan-Kettering Cancer Center, and an MBA from the S.C. Johnson Graduate School of Management at Cornell University. Dr. Kappel was also chosen as a Howard Hughes Pre-Doctoral Fellow and has published 17 articles in peer-reviewed scientific journals.
David Scheinberg, M.D., Ph.D.
Director: Chair, Science and Technology Committee
David Scheinberg is the chairman of the molecular pharmacology and chemistry program at the Sloan-Kettering Institute. Dr. Scheinberg also founded and chairs the Experimental Therapeutics Center at Memorial Sloan-Kettering Cancer Center, co-chairs the Pharmacology Graduate Program at the Weill-Cornell University Medical College and is a professor in the Gerstner-Sloan Kettering Graduate School at MSKCC, as well as at Weill Cornell Medical College. From 1992 until 2003, he was Chief of Leukemia Service at Memorial Hospital. In 2013, Dr. Scheinberg was Interim Director of Sloan-Kettering Institute.
A physician-scientist, Dr. Scheinberg specializes in the care of patients with leukemia. He investigates new therapeutic approaches to cancer, both in the hospital and in the laboratory. The focus of his research is the discovery and development of novel, specific immunotherapeutic agents. He has developed eight therapeutic agents, which include the first humanized antibodies to treat acute leukemia, the first targeted alpha particle therapies and alpha generators, and the first tumor-specific fusion oncogene product vaccines; they have all reached human clinical trials. Dr. Scheinberg has published more than 200 peer-reviewed papers, chapters and books.
In the private sector, Dr. Scheinberg was Founder and Chairman of the Board of Active Biotherapeutics, Inc., which was acquired by Progenics Pharmaceuticals. He is currently a Director of Progenics Pharmaceuticals, a public company, and a member of the scientific advisory boards of OncoPep and Ensysce Biosciences. He founded and is a director of the Therapeutics Discovery Institute, a non-profit drug discovery corporation serving Rockefeller University, Weil Cornell Medical College and Memorial Sloan Kettering Cancer Center. Dr. Scheinberg advises charitable foundations, cancer centers, and biotech companies and sits on several journal editorial boards.
Dr. Scheinberg holds an A.B., cum laude, distinction in all subjects, from the College of Arts and Sciences, Cornell University, 1977. He holds an M.D. from Johns Hopkins University, 1983, and a Ph.D. from Johns Hopkins University School of Medicine, Department of Pharmacology and Experimental Therapeutics, 1983.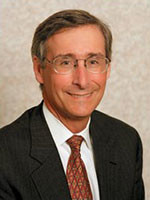 Robert Ruffolo, Ph.D, D.Sc. (h), D.Eng. (h), F.C.P.P.
Director
Robert Ruffolo is the retired President of Research and Development for Wyeth Pharmaceuticals, and Corporate Senior Vice President of Wyeth (now Pfizer). In that role, Dr. Ruffolo managed an R&D organization of 9,000 scientists with an annual budget in excess of $3 billion. Dr. Ruffolo joined Wyeth in 2000 as Executive Vice President, responsible for Pharmaceutical Research and Development.
Prior to joining Wyeth, Dr. Ruffolo spent 17 years at SmithKline Beecham Pharmaceuticals (now GlaxoSmithKline) where he was Senior Vice President and Director of Biological Sciences, Worldwide. Before joining SmithKline Beecham, he spent six years at Lilly Research Laboratories where he was Chairman of the Cardiovascular Research Committee. During his career in the Pharmaceutical Industry, he played a significant role in the discovery and/or development of a number of marketed products, including Carvedilol (Coreg/Kredex/Dilatrend) for the treatment of congestive heart failure and acute myocardial infarction, Ropinerole (Requip) for Parkinson's Disease, Dobutamine (Dobutrex) for congestive heart failure and Eprosartan (Teveten) for hypertension.
Dr. Ruffolo holds a B.S. in Pharmacy summa cum laude with Distinction, 1973, and a Ph.D. in Pharmacology, 1976, both from Ohio State University. Thereafter, he spent two years as a postdoctoral fellow at the National Institutes of Health. Dr. Ruffolo has authored nearly 500 full-length publications and over 200 abstracts, and has edited 17 books.
Christian S. Schade
Director; Chair, Audit Committee
Christian S. Schade is currently the President and Chief Executive Officer of Aprea Therapeutics, a privately held, clinical-stage biopharmaceutical company developing novel anticancer therapies targeting the tumor suppressor protein p53. He serves on the Board of Directors of Integra Life Sciences as a member of its Audit Committee and Chair of its Finance Committee, and serves on the Board Directors of Indivior PLC as Chair of its Audit Committee.
Prior to Aprea Therapeutics, Chris was Chief Executive Officer of Novira Therapeutics Inc., a privately held biopharmaceutical company, until its acquisition by Johnson & Johnson in December 2015. Chris was previously Executive Vice President and Chief Financial Officer of Omthera Pharmaceuticals, Inc., a specialty pharmaceutical company, prior to its sale in July 2013 to Astra Zeneca. He was EVP and CFO at NRG Energy from March 2010 to September 2011. Chris joined Medarex Inc., in 2000 and helped it grow to become a leading pharmaceutical development company and, as Senior Vice President of Administration and Chief Financial Officer, played a lead role in the negotiations for Bristol-Myers Squibb Co.'s $2.4 billion acquisition of Medarex in September 2009 and the subsequent merger-integration process.
Chris has previously served as Managing Director and head of the European Corporate Funding Group at Merrill Lynch in London and also held various capital markets and corporate finance positions in New York and London for both Merrill Lynch and JP Morgan Chase & Co.
Chris received an A.B. from Princeton University and an M.B.A. from the Wharton School at the University of Pennsylvania.